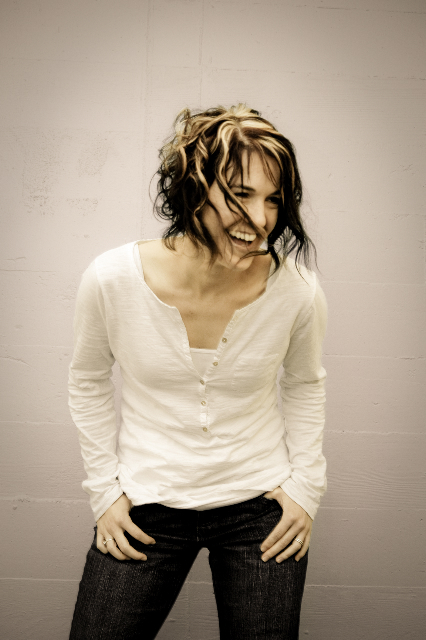 Nutshell version:
Growing up in a family of musicians since early childhood, I began writing songs as my favorite childhood pastime at age nine. As a teen, I developed my own business as a private music teacher to begin earning income. As time went by, writing songs and music scores consumed my greatest focus throughout high school and college, later graduating with a Music Composition degree. With the song "I Lift My Voice" in 2000, I earned the title cut on a world-wide distributed worship recording project. Becoming a mother in 2001 shifted my greatest priority toward my family, though I managed to release two albums in 2010 and 2011, as well as a duo band album with my sister, Tiffany Carlson, in 2012 (all available through online platforms including Apple Music and Spotify). In 2013, my single "I Know it's you", was awarded "Song of the Year" by West Coast Songwriters, kick-starting my ability to travel and work with renowned Nashville songwriters and producers such as Mark Cawley, Bob Britt, and John Hartley. From 2015-2020, as a mom of two very musically driven young men, I chose to focus most of my time being a mother, mentor, and cheerleader for my sons in any way they needed, while continuing to teach music privately from my home studio. Today, as our sons are embarking on adulthood, my husband, Steve, and I are living in Nashville, TN, shifting my priority back to rebuilding momentum as a songwriter and background vocalist.
Storybook Version (grab a coffee or a sandwich):
Since the age of nine, I dreamed of one thing…writing songs like the ones my Dad would wake us up to in the morning — songs that would drift up the stairwell and into my bedroom from his old record player to start a new day. I can still hear that first line of the first track from Amy Grant's 1980 "Never Alone" album, "In the morning when I wake, and my feet can't find the floor"…feels like yesterday. I'm certain it was moments like this that sparked my desire to write. I began writing songs on the front row of a church pew during sermons my Dad would preach, inspired by whatever he was saying. I grew up the red-headed middle sister of three daughters, blessed with loving parents and the bliss of spending early childhood days on the lawn doing gymnastics with my neighborhood friends or playing on the beaches of Santa Cruz, CA.  But there was no greater joy than the heritage of music in my family…it was a part of life.  Even in my extended family, most of us began piano lessons by 5 years old and were singing on stage before we knew how to hold a microphone.  I can remember how my Dad would kneel beside me and hold my mic, helping me feel confident in front of an audience or church congregation. Sometimes we would pile in that old, green, Chevy sedan, often pulling a trailer, and travel across the country, singing as a family of five at camps, churches, and events. From my very beginning, faith and music were as regular as breathing.
Much to my heart-broken, adolescent objection, we moved from Santa Cruz where I left behind the beaches, the gymnastics lawn, my best friend since Kindergarten, and my bedroom I had all to myself. Thankfully, I didn't have to leave behind the music.  We landed in Vancouver, WA when I was a young teen, where I found life-long friends even in the midst of those difficult adolescent days — those days that flooded my journals and inspired lyrics that were important to me — like friends you can trust, crying to Jesus, and boys. We were schooled at home from the time I hit 6th grade and it honestly worked out fabulously for me — the contemplative dreamer who wore her heart on her sleeve — because I could write and write and write.  I loved having all that time to myself.  Sitting at the piano, trying to arrange the notes like one of Michael W. Smith's Christmas compositions – those were the days. I didn't have to babysit to earn money like my friends. Instead, I began teaching piano. It was a great childhood that set me up for the rest of my life. It did not surprise my parents that I attended college to study music and earn a degree in Music Composition. If there had been a songwriting major at the university I attended in Portland, OR, that would have been a dream come true, but I decided to take the next best thing and learn to score and arrange. Had I returned to my birth place in southern California, I may have pursued scoring for movies right out of the gate.
In my twenties, life became messy and confusing. The pain and sorrows of adult life taught me a lot, though, which lightly put is good food for better lyrics.  Gone were the days of simple childhood.  Years and years were spent in my early adult life just trying to keep my head attached and my heart beating. But experience taught me that heartache redeemed can bring about a beauty that the beaches could never possess, a joy that turning cartwheels on the lawn cannot produce. Adversity hit hard but God brought beauty from the ashes and a deeper relationship with Him — a peace that cannot be explained.  After a devastating decade early in my marriage, for my family and myself – a time I was too numb to write – I was so grateful to become a songwriter again. My first album, "Tracks (Ext)" (released 2010), was a compilation of songs written and recorded years apart from each other but placed side by side. My sophomore album called "Restore" (released 2011) was lyrically penned straight out of excerpts from my journal during a long healing process and speak directly to areas of restoration, daring to hope, and running straight into the freedom of truly living life to the fullest, being who God created us to become.
After that release, writing opened the door to great opportunities, traveling back and forth between Oregon and Tennessee, working with some great musicians like Bob Britt, John Hartley, Mark Cawley, Tim Lorsch, Tim Ellis, and Jim Walker, while meeting with a variety of great songwriters. For a few years, I performed live in a duo band called Carlson Wells with my sister, Tiffany Carlson. In 2013, I was honored to win "Song of the Year" at the live songwriting finals competition at the West Coast Songwriters finals round in Berkeley, CA with "I Know it's You".
In 2014, my sons began to hit that age where I felt very impressed to focus completely on them and take a break from the music business. Losing momentum in the business was a small price to pay for those wonderful years watching my boys flourish in their musical endeavors during high school. My desire to write never diminished, but rather took a restless nap. I equate the feeling to playing "freeze tag", patiently waiting for my turn to be tagged so I could run again.
My husband and I now reside in Nashville, TN, where our sons attend Belmont University, and I am now free to jump back into songwriting full time. My life may not be as glamorous as I had imagined at nine years old, but it's rich and has been perhaps a little too full at times. I wouldn't trade a moment of the journey, even the ones that brought scary changes and painful growth. Some things have not changed even a little bit. Faith and music are still like breathing to me. I still write about the same things I did as a young girl: relationships, trust, Jesus…and my life ended up staying focused on boys — sons.  The difference is that now I know more of what I'm talking about…at least I hope. Some days it feels like I just have more questions. Excited for what lies ahead! Hope you'll join me on this journey.
Thanks for listening! Blessings to y'all.
Nicole